Welcome to Chemical and Biological Engineering!
Our goal is to prepare students to use their knowledge and skills to contribute to society and their profession. We offer undergraduate degrees in both chemical engineering and biological engineering.
The basis of both chemical and biological engineering is the useful transformation of matter from one form to another. That transformation can be brought about by direct chemical reactions, or chemical reactions mediated by living organisms.
Right now, chemical and biological engineers can work in many of the same areas. That may change as biological engineering develops as a profession, but biological engineers are likely to work closely with chemical engineers for the foreseeable future.
Students share their stories
Students talk about what makes MSU unique. Hear about their plans for the future and how they anticipate that chemical engineers will improve people's lives, especially through medical and environmental applications.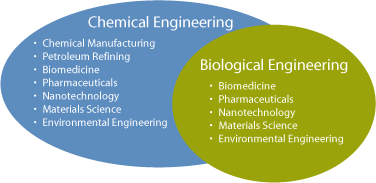 Both chemical and biological engineers are working with:
Novel materials
Food products
Energy sources
Pharmaceuticals
The list is expanding all the time - tomorrow's graduates may find careers in fields that do not even exist today as chemical and biological engineering research continually expands the opportunities.
If you haven't decided whether you want a career in chemical or biological engineering, take heart - the curricula for chemical engineering and biological engineering are identical for the first three semesters.
In the first three semesters the focus is on basic math and science courses, and both biological engineers and chemical engineers need chemistry, calculus, and physics. The curricula start diverging in the junior year when biological engineering majors and chemical engineering majors take more discipline specific courses.
Our Values
Creativity
Work Ethic
Honesty
Quality
Collegiality
Equality
The Chemical and Biological Engineering department is committed to promoting diversity and inclusion among students and faculty. Both the student body and faculty are 40-50% women, and students from a number of underrepresented groups are pursuing degrees in Chemical or Biological Engineering. More information about diversity at Montana State University is available through the ADVANCE Project TRACS website, the President's Commission on the Status of University Women, and the Family Advocate website.
Learn more
If you aren't sure whether you want to formally apply, you can fill out our department's Graduate Study Inquiry Form, and someone will reply via email.